Winter Outlook: Colder than Normal out West, Warm for the East
A stagnant weather pattern looks to develop over Canada in the near term, after a period of very warm weather across the country; a possible precursor to the overall trend expected this winter. A deep trough will form over the central part of Canada behind a low pressure system slides east, leading to temperatures being much below normal for Central Canada, while an area of high pressure allows for a strong ridge to remain over the east, aided by a positive Arctic Oscillation that is occurring. This will keep Ontario and Atlantic Canada warmer than normal for at least the next week.
Short to mid term modelling shows this strong ridging remaining over the east for the next week with a battle zone setting up over Ontario with several disturbances looking likely to move through as the warm/cold air battle sets up.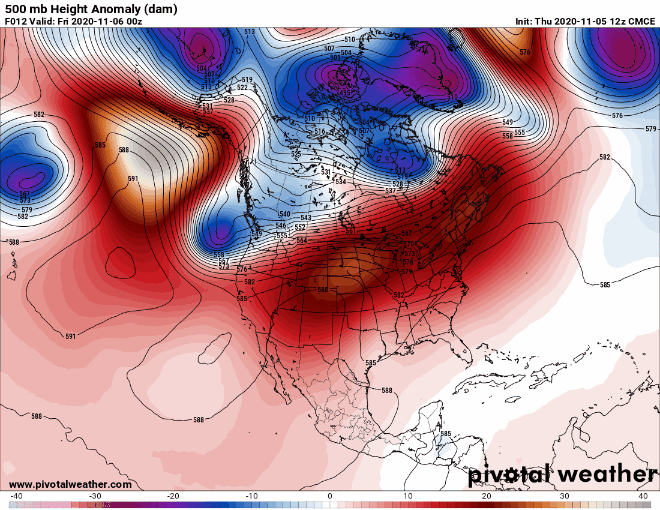 As we look into the winter, there are signs that a similar pattern to this could continue. North America is feeling the affects of La Nina, which is an oscillation resulting from air currents blowing warm water west from the shores of equatorial South America towards Indonesia. This upwells colder water and makes the waters off of equatorial South America cooler than usual which affects weather patterns.
Typically, this leads to a cooler than normal winter for Western Canada, and a wetter pattern around Southern Ontario as systems move through and can bring warmer air in the warm sector, or snow if the storm track is just south of the province.
Looking at the pattern and comparing to later term modelling, intrusions of warmer air look more likely for the east with modelling suggesting more ridging will continue into the winter months, and troughing remaining out west with the La Nina pattern dominating. Other oscillations such at the arctic oscillation could enhance warm and cold areas with the La Nina pattern as well depending on its phase and strength.
The blend of models and the La Nina pattern suggests that more snow than normal could be on the table for BC and the Prairies, while Ontario also sees more precipitation than normal. The winter outlook from Environment Canada suggests Southern Ontario has a 60-70% chance of above normal temperatures into the winter (December-February), while the Prairies wave a 40-60% chance of below normal temperatures for the period.
Temperature trends will vary on near term settings with warm air intrusions at times with storm systems, as well as cold air intrusions behind storm systems, so be sure to stay tuned for updates throughout the winter season from NZP Chasers!